Making way for new opportunities since 1974
At Robinette Demolition, we have been dedicated to getting the job done right for nearly 50 years. Our commitment to quality, safety, and reliability has helped us grow from humble beginnings in 1974 to the thriving company we are today.
Over that time, we've successfully delivered some of the largest, most complex interior and total demolition projects in the Midwest for high-stakes clients in demanding circumstances. We've also evolved with and for the times, adding capabilities, equipment, and knowledge as we grew from one division into many.
Today, these three divisions form the heart of our family-owned and operated company. Together they have made us a leader in demolition engineering as well as in emergency response services. Through our turnkey approach, we deliver safe, cost-effective demolition and dismantling for customers in an array of end markets, often with substantial on-site or project complexity. With the unmatched leadership and experience of our Emergency Response Division, we support the immediate aftermath of catastrophic emergencies as well as complex Cause and Origin incident investigations. Through our ER Division, we also offer critical fire training as one of only six registered burn centers in the metro area.
At Robinette, there is no challenge too big: we love demolishing, and we relish the challenge of emergency response. It's our people, though, who are our most important asset in ensuring the job is always done right. Our award-winning safety team is at the center of our safety-first culture. We have also created and maintain a comprehensive internal education and training program to ensure we operate in compliance with all city, state, and federally mandated safety and environmental regulations. Beyond these key pillars of our culture, we have also sought to be the gold standard in our industry—the company you want to call no matter how big or complex the job is.

Robinette Demolition by the Numbers
Demolition projects since 1974
Years of market experience
Association of Subcontractors & Affiliates safety awards









Hospitals and Medical Facilities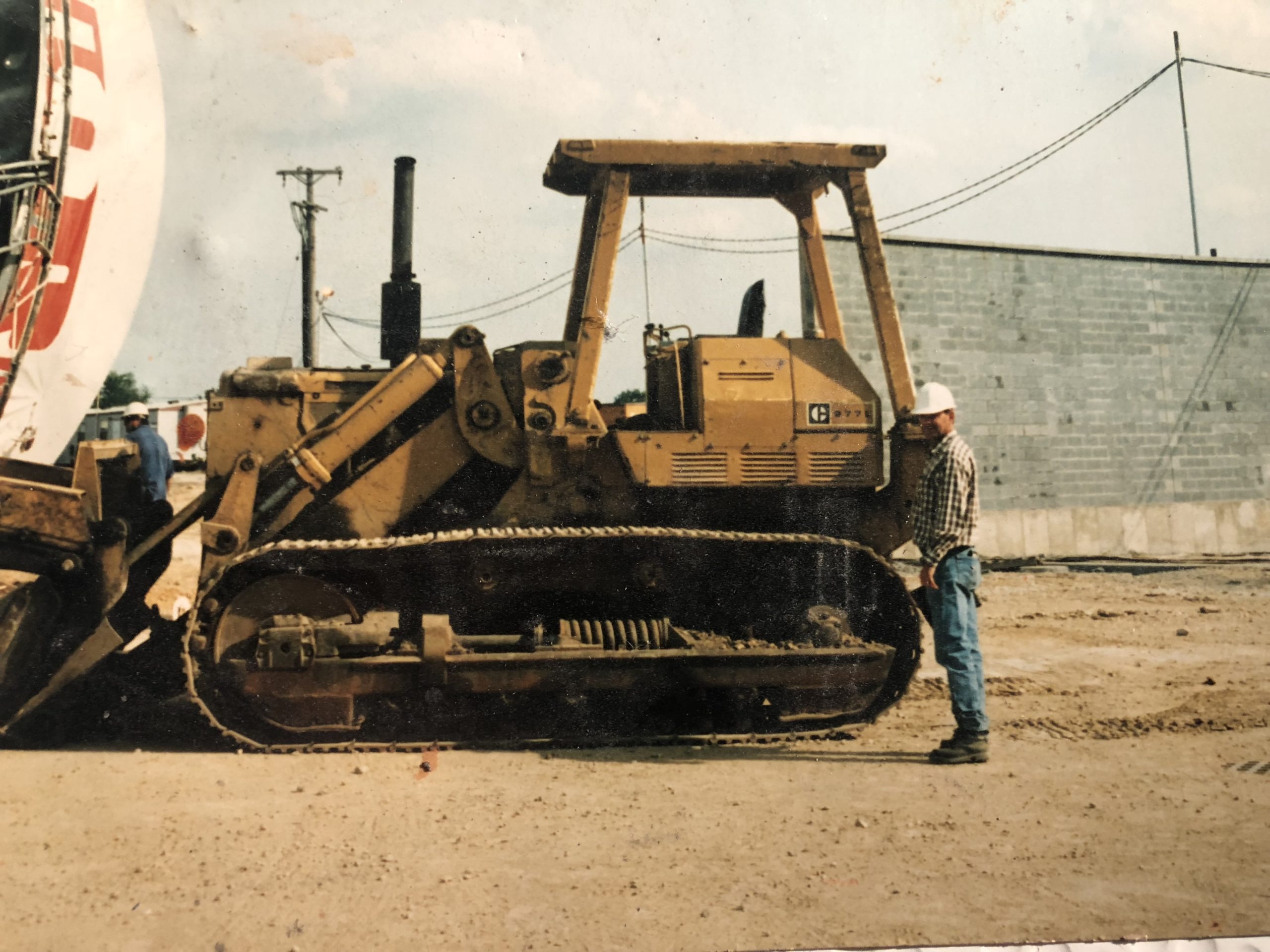 President of RDI since 1974, Tom Robinette has played a major role in the firm's continued growth. With over 46 years of comprehensive experience in all phases of demolition and project management, he leads the company with a can-do attitude and strong customer relations outlook. Tom is a respected leader in the demolition industry, a longtime member of the trade association's board of directors, and past President of the National Demolition Association.
John C. Robinette - Vice President/Owner
Vice President since 1974, John Robinette leads the Total Building Demolition division of the company. He is responsible for the equipment used and the coordination of the total building demolition projects. A recognized expert in demolition equipment and heavy machinery, John helped develop many of the innovative tools and attachments used in the industry today. His knowledge of equipment also helps provide guidance to our repair shop and purchasing department.
T.J. Robinette - Estimator and Project Manager
T.J. brings over 30 years of experience in the demolition industry to his leadership role. He began his career working in the Robinette yard and on various job sites as a teenager and after graduation from high school joined the company full-time. For his first several years, he worked for various divisions in a number of roles that gave him a wide range of experience in operations, equipment, tools, and methods while helping build solid working relationships with Robinette's people. In 1999, he moved into a role as a junior estimator. By 2004, he was bidding large projects of mixed complexity and heading some of the largest and most high-profile projects awarded to Robinette. He also completed training in Vistage, an executive leadership program. Today, T.J. continues to guide Robinette in serving the Chicago market, delivering high-stakes projects and helping the company grow into its fifth decade.
Matthew Robinette - Estimator Interior/Total Division
Matt has over 10 years' experience in the demolition industry. His experience working as a foreman and heavy equipment operator for the Interior and Total Divisions has given him a broad base of expertise as an estimator for Robinette. Matt began his career in Robinette's equipment yard and over the course of the last 20 years has also held roles in the field as a laborer, operator, and head of the scrap/precious metals division before becoming an estimator in 2015. Today he bids, manages, and runs contracts well in excess of $1 million. He brings detailed knowledge of staff skill levels, top-notch communication, and a commitment to superior service to every project to ensure it is smooth from start to finish. Matt looks forward to working with the rest of the family to carry the Robinette legacy into the future.
John Gamboa - Emergency Services Division Manager
John oversees Robinette's Emergency Services Division. John brings deep expertise and credentials to his division leadership. He began his career in 1984 with the US Treasury Bureau of Alcohol, Tobacco, Firearms and Explosives (ATF) as a special agent in the Chicago Field Division. His career grew with ATF: he served as a group supervisor overseeing a squad of 12 special agents in Illinois before being trained as an ATF Special Agent/Certified Fire Investigator (CFI). He also earned certification as a member of the International Association of Arson Investigators, Certified Fire Investigator (IAAI-CFI). From 1995 until 2016, he taught new ATF special agents and international fire investigators basic and advanced origin and cause investigation techniques. He has been a visiting instructor for ATF and the International Association of Arson Investigators (IAAI) in Canada, Alaska, Idaho, Indiana, Florida, Texas, the US Virgin Islands and South and Central America; co-developed the curriculum for the College of DuPage; and assisted in the development of the DuPage, Kane, and South Suburban Fire Investigation Task Forces. He was instrumental in establishing the Robinette Fire Training Center in 2019.
Kevin Jungkans - Dispatcher, Yard and Operations Manager
An expert on equipment big and small, Kevin keeps everything running smoothly at Robinette. He is responsible for day-to-day operations, including scheduling and meeting with crews, managing truck and equipment moves, and overseeing inventory needs. In addition, he handles maintenance for the yard and warehouse. Kevin has been with the team since 1998.
Juan Ramirez - Robinette Emergency Response Superintendent
Juan has been a dedicated Robinette employee since 1992. His expertise and certification in heavy equipment deployment is unmatched in the field of emergency response, building stabilization, recovery and investigative operations. Juan's knowledge in emergency scene management goes beyond equipment and manpower. After assuming the Superintendent position in 2016 with Robinette's Emergency Response Division, he has been charged with all phases of project coordination, cost estimating and safety solutions for our clients. Juan's duties also include close coordination with federal, state and local investigating agencies, insurance and private investigators, and insurance adjusters.
Mitchell Wido- Robinette Evidence Recovery Team Leader
Mitchell Wido retired from the Bureau of Alcohol, Tobacco, Firearms and Explosives in 2018 as a Special Agent Certified Explosives Specialist (SACES).  He has investigated hundreds of explosives and fire scenes in his 30-year career with ATF. Mitchell was a member of the Chicago Field Division Arson/Explosives Response Team specializing in scene documentation. In 2006-2007, he was detailed by ATF to assist the U.S. Military in conducting investigations of roadside bombings against coalition forces in Iraq. Mitchell is a contract instructor in Explosives Investigations and Scene Documentation at the Federal Law Enforcement Training Center in Glynco, Georgia. Prior to retirement, he was an instructor at the International Law Enforcement Academy in Budapest, Hungary.
Michael J. Walsh - Evidence Recovery Specialist
Following a distinguished 30-year federal law enforcement career conducting and supervising criminal investigations, evidence collection and emergency response, Mike joined the Robinette ERT as a Senior Evidence Recovery Specialist. Prior to retiring from the Bureau of Alcohol, Tobacco, Firearms and Explosives, he was the Washington D. C. Division Chief for ATF's National Ballistics Identification Program.